Handmade Jewelry, Made With Love – Silverfinch Jewelry Design
Interested in starting your own entrepreneurial journey in jewelry but unsure what to expect? Then read up on our interview with Donelle Clarke, owner of Silverfinch Jewelry Design, located in Vancouver, BC, Canada.
What's your business, and who are your customers?
I hand make one-of-a-kind wearable art jewelry. We are all different, and I believe that our jewelry should reflect our individual personalities.
With that in mind, my customers are independent, strong women who command a presence. These women care about our environment also, knowing that metals are recycled, and my gemstones are traceable and have not caused harm.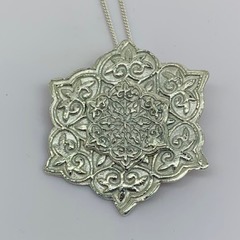 Tell us about yourself
I was a nurse who specialized in sick newborn babies. But I learned early on that having a creative outlet offered a balance to my life. So 35 years ago, I began learning to make jewelry.
I took indigenous studies and was introduced to women who taught me beadwork on leather. Out of respect when I moved to BC, I stopped.
Taking classes until I found my passion lead me to silversmithing and was hooked. That led me to Metal Clay, where I fell in love with the possibilities!
What's your biggest accomplishment as a business owner?
My biggest accomplishment is making my own website! And my other huge accomplishment is being in Art Shows.
What's one of the hardest things that come with being a business owner?
Finding time to do everything myself! There's the making, keeping the website up to date, writing blogs because each piece of jewelry has a story, etc. Is it worth it? Oh yes!
What are the top tips you'd give to anyone looking to start, run and grow a business today?
Find your passion, and then take classes to fine-tune your expertise and voice. The world need you! Don't listen to doubt; go for it and watch the doors open!
Is there anything else you'd like to share?
Follow you heart. Your art isn't for everyone; it's for your ideal customer who is waiting for you!
Where can people find you and your business?
Website: https://silverfinchjewelrydesign.com/
Facebook: https://www.facebook.com/silverfinchjewelrydesign/
Instagram: https://www.instagram.com/donelle.clarke/
Linkedin: https://www.llinkedin.com/in/donelleclarke/
Many thanks to Evelyn at GoSolo
Instagram: https://@subkit
Linkedin: @subkit
Twitter: @wearesubkit